Step One:
Get active!
Walk, Run, Hike, Bike, Step, Swim, Paddle or create an activity.
Step Two:
Determine your challenge in miles.
Steppers hint: for the average person 2,000 steps = 1 mile.
Golfers: one round of golf = 5 miles.
Step Three:
Sign up and create your personal challenge web page on the Step Up site.
Step Four:
Share your challenge with others, and seek donations towards your goal.
Step Five:
Ready, Set, Step Up! Start logging your activity or connect with Strava and GO!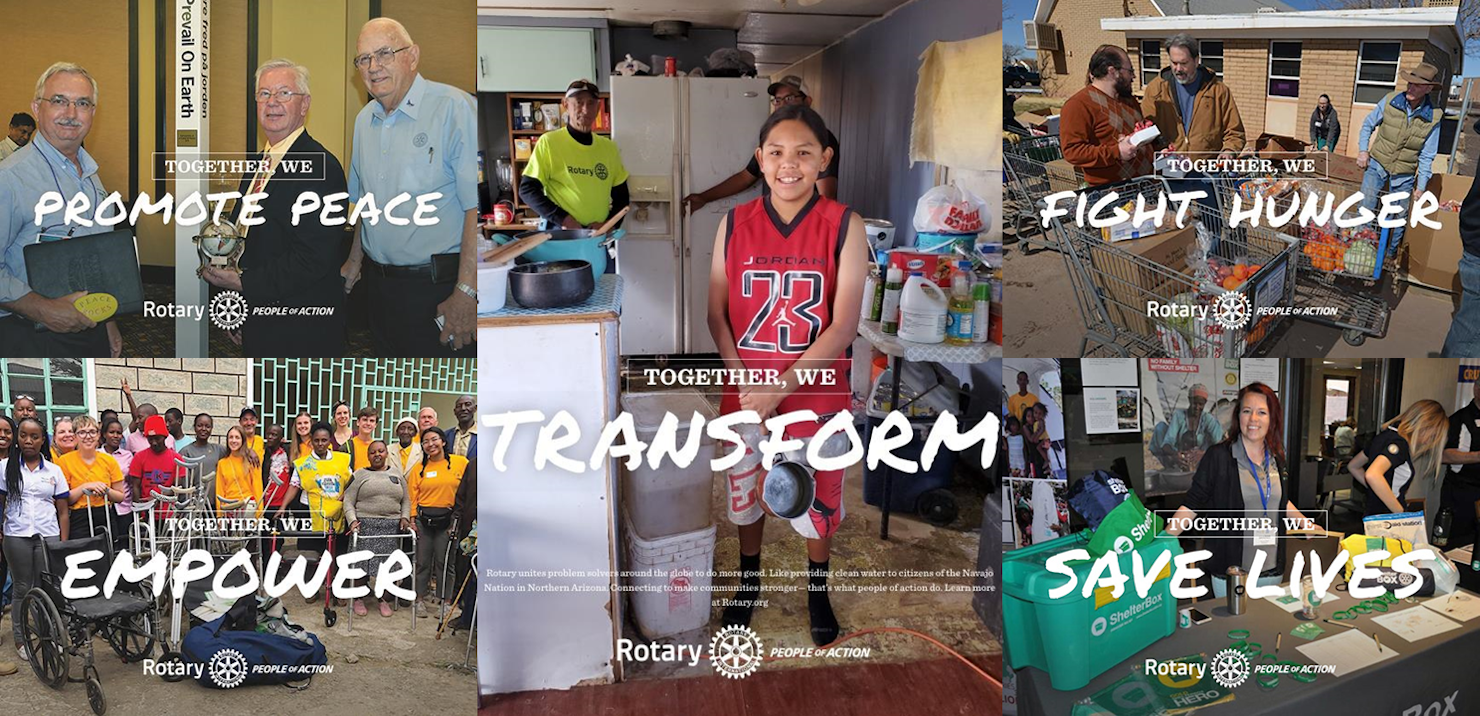 Frequently Asked Questions
How does Step Up for Rotary work?
Yes, you can sign up and join the challenge anytime! Create your Personal Challenge Page, and let's get moving!
Can I change my activity type?
Yes! This is about distance of any kind. You can choose walking, swimming, cycling, scooting, skateboarding, anything that can be recorded in miles! Even playing golf has a distance!
How does my activity get tracked?
Once you set up your Personal Challenge Page, you still need to connect your device (phone, Fitbit, Apple Watch, etc.) to Strava. Please see homepage for setup instructions. Please note: this is free. You do not need to sign up for a paid subscription or start a free trial.
If you do not have an activity tracker, you can manually enter in your activity.
How do I signup with my Club Members? Can I create a team?
Each person needs to create their Personal Challenge Page. After that, you can create or join a team. Each Rotary club can create a team if they'd like. Contact Teresa at stepup5495@gmail.com for help.
Do I have to fundraise and follow activity?
No. Your Personal Challenge Page allows you to post whatever you like. You can fundraise alone OR just track your miles. We want everyone to feel comfortable participating!
How do I select where my raised funds go?
Teresa Haire, our Executive Administrative Assistant for District 5495, will be reaching out to you to fill out your Participant Donation Form after you have set up your Personal Challenge Page. You can choose between: The Annual Fund (The Rotary Foundation), PolioPlus, Interact Ambassadors Project, or YOUR CLUB! If you would like to contact her please email stepup5495@gmail.com
Foundation Recognition, Paul Harris Points, and Year-End Donation Receipt
Paul Harris Points: Will the donor or participant receive points for participating in Step Up for Rotary?
Any net funds raised towards The Annual Fund or PolioPlus will be awarded Paul Harris points from the District to the participant. The participant may transfer the points to the donor/another person after the fact, if they would like to do so. This will help you achieve your next Paul Harris status.

Because the Step Up for Rotary participant is not the actual donor of the funds, they will not receive credit from TRF for the money donated.
Major Donor: Will the funds I raise or donate be applied towards earning Major Donor status?
No. Since the funds raised are donations from another person/source, and are not direct contributions to the Rotary Foundation, they are not applied to either the Donor or participants Major Donor status.
What if a donor wants to make a substantial contribution directly to PolioPlus or The Rotary Foundation (TRF) Annual Fund in order to receive TRF credit (toward Major Donor status for example)?
Are the donations going directly to TRF?
The funds donated to the Step Up campaign will initially go through the Rotary Club of Prescott Charitable Foundation (a 501(c)(3)) so they can be allocated to the different causes being supported by the campaign, including to PolioPlus and the TRF Annual Fund. The RC of Prescott Foundation is only acting as a pass-through charity for the funds. All donations are tax deductible.
How do the donors receive acknowledgements of donations?
Confirmation of Donations are sent directly to the donor.
Step Up!
New to Strava? You can register here for free.
Once you've setup a Strava account, make sure you've logged in to your fundraising page first then ...
Go to Edit Page
Select Fitness
Click the Connect Strava button
If you don't want to use Strava, you can use the Log Fitness button on your page activity feed to track your distance.
Make sure your Strava privacy setting is not set to "only me" and remember, only fitness activities that you do after the date you connected your fundraising page to Strava will display on your Fundraising Page.
Put your best foot forward and use Strava's local guides to find route inspiration near you.